Warren Buffet, one of the most well-known names in the financial market, has issued a warning against a "cryptocurrency brokerage" that is using his name and that of his company to, most likely scamming cryptocurrency investors.
"Earlier this afternoon, we became aware that there is an entity using the name Berkshire Hathaway with a web address of berkshirehathawaytx.com. The entity has no affiliation with Berkshire Hathaway Inc. or its chairman and CEO, Warren E. Buffett", the company in a statement.
According to the purported broker's website, berkshireHathawaytx.com was created on
and aims to provide investors with a chance to earn fully passive income through investments in "cryptocurrency mining".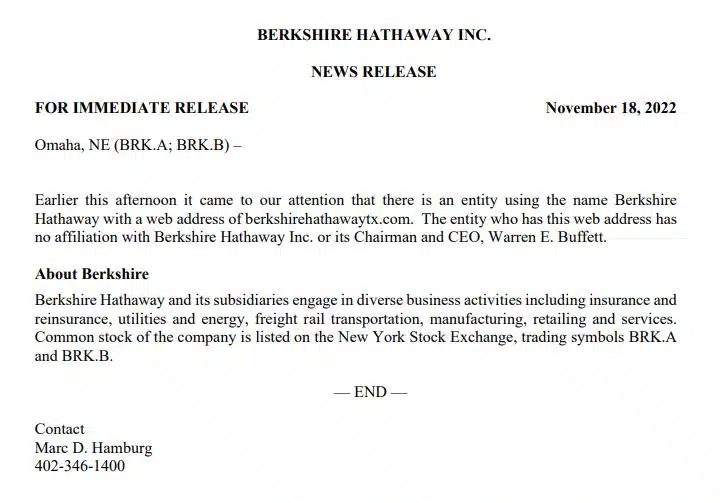 The website states that "Berkshire Hathaway is a Texas-based company created to give our investors the opportunity to earn completely passive income."
With this, the unsuspecting may believe that everything is just a coincidence, two companies with the same name, which is unlikely, but not impossible.
However, there are several red flags about the project.
Site promises guaranteed and daily profit;
Home address;
There is a minimum amount to be able to invest stir;
Claims to be regulated by the country's main authorities, but it is not on the official lists of regulatory agencies.

The real Berkshire Hathaway is an American holding company that serves as an investment vehicle for Warren Buffett. It became one of the largest companies in the United States at the turn of the century. .

Berkshire Hathaway also has significant interests in companies it does not control, such as Coca Cola and Apple. Meanwhile, Warren Buffet is considered the greatest investor of all time. His net worth has been estimated at $71,8 billion in July . Buffet's investment philosophy is widely followed around the world.

With this in mind, especially when using the name of one of the most famous US banks to attract more victims to a possible scam, it is very likely that the site was created by criminals.

139293