Changpeng Zhao hastily posted a tweet on Monday night (11). In it, the founder of Binance pointed out that his intelligence team had detected a potential exploit at Uniswap, the biggest name in the DeFi industry.
At that time there was little information, only about 4. 200 ETH (BRL
millions) were already in the hands of hackers, who used Tornado Cash to break the transaction trail.
However, the attack was much smaller than Zhao imagined and did not put Uniswap's billions of reais at risk. It was just a phishing attack, in which few were affected, which led to explanations by CZ.
Changpeng Zhao could have avoided panic
Although the market is already used to FUD, that is, rumors that cause panic, this time it was the CEO of the largest cryptocurrency exchange who promoted chaos with little information in hand.
In his defense, Zhao said that he preferred to cause panic rather than risk that investors could lose billions, if the threats were real.
"It could have waited until you get the Uniswap contact. It would have avoided any public panic," writes Changpeng Zhao, founder of Binance on Twitter. "But if this were a real threat, millions or billions would be lost during that time."
Zhao had just left a gala dinner and was missing 15 minutes to 1 am where I was. After receiving a message from Binance's intelligence team about a theft, he tried to reach Vitalik Buterin to get Uniswap's contact, decided not to wait too long for a response, resulting in the tweet below.
"Our intelligence team has detected a potential Uniswap V3 exploit on the Ethereum blockchain. The hacker has stolen 4295 ETH so far, and they are being laundered through Tornado Cash. Can someone notify @Uniswap? We can help. Thanks."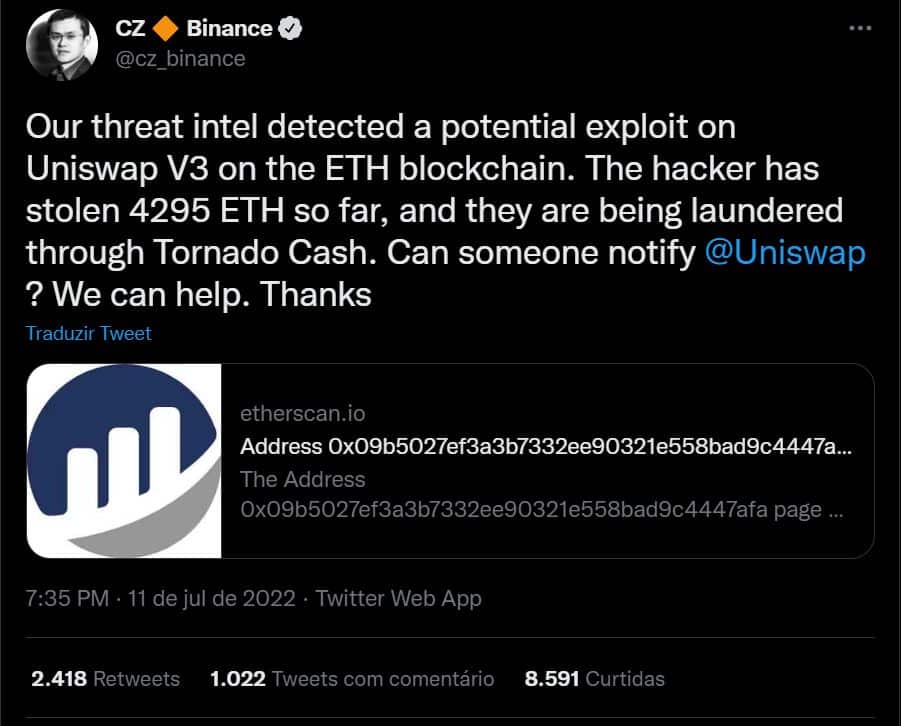 However, it was a fake airdrop of a Uniswap coin and the phishing attack affected few people. That is, there were no security flaws in the largest DeFi protocol in the industry.
"My image can be harmed , but better than more people losing money."

Binance founder did not have a contact for Uniswap

Although Binance has been working with Uniswap (UNI) for a long time, Changpeng Zhao stated that he did not have the team's contact at this time. After all, the token was listed on the project's own merits.

"One of the few tokens we list without requiring direct contact information from the project team. This is the moment when it would have been useful," comments Changpeng Zhao. "I never needed to talk to them. decentralized. It is a strong project with many users and a grandfather to DeFi, so we listed it."

Finally, although it caused panic, Zhao may have helped other people not to fall into this fake airdrop. Therefore, it may have saved the night for some inattentive investors, which helped to free their bar.

2/ I could have waited until I got the private contact info for the Uniswap team. It would have avoided any public "panic". But if this was a real exploit, millions or billions more could have lost during that time.

— CZ 🔶 Binance (@cz_binance) July 11, 20901